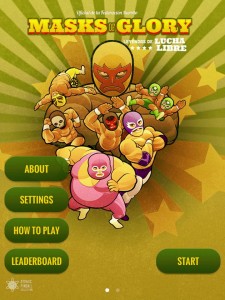 I stopped being interested in wrestling at about age 14 when I started the Austrian equivalent of high school. This was connected to a change of scenery as I moved from the suburbs into the city (Vienna) at the time. Before that happened, we practised power moves in the breaks of gym class of my old school and traded collectable cards with wrestling heroes of the early 90ies. A lot of people my age had similar experiences and are therefore tightly rooted in what is nowadays considered to be the classic era of US-Wrestling. Recently, I was pleasantly surprised to learn that the Limited Edition of "WWE WrestleMania", Stern's new table that is due for release in Spring this year, features some of the old school Wrestling stars from the WWF-era. Also, every LE table is signed by Hulk Hogan himself.
At the same time, I made another discovery that has to do with pinball and wrestling – which was astounding considering the fact that news regarding those two fields of interest mixed together are quite rare. It wasn't about an announcement of a physical table though but a new iOS app that was released just recently. Its name is "Atomic Pinball Collection" and it's a completely new video pinball container aside from "Pinball Arcade", "Zen Pinball" and "Zaccaria Pinball" which most of you probably know already. Two tables are to be found in there: "Revenge of the Rob-O-Bot" and "Masks of Glory". "Revenge of the Rob-O-Bot" is a table that came out as a standalone app two years ago and was a surprisingly well designed and good looking tongue-in-cheek science fiction table coming from the Swedish company Color Monkey – a newcomer when it comes to pinball. This old table has been revamped a little bit with some new tweaks here and there and been re-released as "Revenge of the Rob-O-Bot 2.0", if you will. But what is obviously more intriguing inside the "Atomic Pinball Collection" is the second, brand new table: "Masks of Glory", the world's first pinball about Mexican Lucha Libre wrestling!
When you start the table, you get thrown right into the action. What strikes your eyes at first are big dudes in colorful spandex pants and exotic masks in the middle of the playfield and a wonderfully animated virtual dot matrix display. The Mexican as well as the Western version of wrestling is all about big gestures and spectacular moves. In "Masks of Glory", there is a ringleader with a high pitched voice and a narrow mustache, a tequila bar and opponents of the likes of El Ligre, Bastardo and Chico Fantastico. In the middle of the table you have the ring at which the ball must be shot. After two or three successful shots, the first fight begins. After a few ramp shots you have to shoot the ring again to earn your first win. Yay! But only after all six wrestlers have been knocked out, you have the possibility to face El Diablo, the ultimate enemy. To make things easier and have a break in between, you can go surfing, have a drink and chase chickens for a multiball.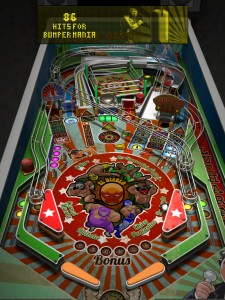 "Masks of Glory" has a great presentation with funny voices, a decent soundtrack and overall a very professional audio design. The table looks good, the ball physics are solid. Just the silverball itself appears a little bit small. Targets can be hit quite easily which makes this a good opportunity for a pick-up-and-play game also for people who are not so familiar with pinball playing techniques like bounce or post pass. Speaking of techniques: This game is quite fast, but taking the speed out of the ball is not necessary most of the time. The ramps can be shot with a wild ball in play without worrying too much that a denial or a bad shot at a post would lead to a quick drain. Most of the time, it doesn't. Speaking of draining: The fact that you can't nudge by tapping the screen (which is quite common by now) is a little bit of a drawback. You have to shake or hit your device quite heavily to nudge – which doesn't really help you concentrating on the game.
All in all, "Masks of Glory" is a really good alternative to all the usual suspects of modern video pinball with just a few minor flaws. It is not known whether the developer wants to put more tables inside the "Atomic Pinball Collection" soon or if we have to wait yet another two years for a third table. Nevertheless, I advice you to check this one out, have a quick demo ball and then decide for yourself if it's worth 3 bucks. I think it's great value. Let's get ready to rumble, luchador!