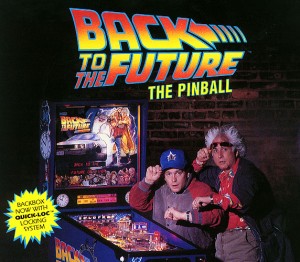 "Back To The Future" has been and still is one of my favorite movies. The magic of time travel is accompanied by striking characters that have a slapstick and comical vibe surrounding them. The movie series has been a pop culture classic for many years now. Marty McFly, Doc Brown, Biff or Mr. Strickland ("You're a slacker, McFly!") are well known characters that get quoted quite often. Several videogames have been published around the time of the release of the "Back To The Future" movie trilogy between 1985 and 1990. In the early 2010s, Telltale Games reignited the franchise through an adventure game series. Last March, a prank about the Hoverboard got viral and so many people believed it to be true that pro-skater Tony Hawk recently apologized for tricking people. Others got so excited by the idea of this prank video that a real Hoverboard project is going on right now. Tony Hawk is on it again and you can pledge money at a Kickstarter campaign.
The year 2015 commemorates the 30th birthday of the original "Back To The Future" and that also means that the second movie's future is now our present – at least the year is the same, we still have to wait for those high-top sneakers with power laces to come out. Something similarly powerful has been around since 1990 though and has aged quite well in the last 25 years. "Back To The Future: The Pinball" from Data East is not an all time pinball classic but still a decent and good looking machine that features two big ramps and an appealing artwork by Paul Faris who is most famous for his earlier designs on "Centaur" and "Xenon" (the last one being a table that spawned an odd but delightful television feature about which we wrote earlier this Fall).
Talking about the game design, the "Back To The Future" pinball is typical for its time. As well as William's machines of the likes of "Taxi" (1988) or "Police Force" (1989), the backbox features different rewards given out to the player when she or he collects ramp shots. Aside from the ramps, most of the targets are classic pinball elements: holes, drop and stand-up targets, pop bumpers and a spinner. As this was a licensed table – minus Michael J. Fox, who refused being depicted in the game – a lot of the original songs and quotes are being used here. The characters are a different case though: Some cameos from pinball people have been included on the playfield and also on some promotional material. We talk about this a little bit more in our new video. Enjoy this episode of "Let us flip"!