Wolfsburg in Lower Saxony, Germany, has quite a strange history. The small city did not grow over the years. It was invented, if you will, by the car manufacturer Volkswagen in 1938. Therefore, Wolfsburg is mostly known for its huge car building factories. In fact, the whole Volkswagen building cluster is the biggest of its kind in the world. The city is also known for its sports club VfL Wolfsburg. Which was formed by Volkswagen workers in the mid 1940ies. So there you go.
This summer though, Wolfsburg additionally had something different to offer. At Phaeno, one of Germany's biggest science centers where you and your kids can experience the magic world of physics in a very playful way, a unique pinball exhibition was installed. It is a collaboration between Pacific Pinball Museum and Phaeno, showcasing pinball as a culture, an art form and a way to show off the laws and joys of physics. Real pinball is about silverballs getting flipped on a playfield, after all – and that fits quite well into a science center if you think of it.
Fittingly, the showcase focuses on electromechanical tables and art pieces that revolve around traditional pinball elements like bumpers, plungers, flippers and slingshots. There were just a few modern tables scattered around, mostly for showing how far pinball has evolved throughout the decades. "Ausgeflippt", as the exhibition is called (which literally means "freaking out", but it is also, as you might have guessed, a word play on "flipper"), has 25 tables on free play, including EM classics like "Slick Chick" or "2001" but also the stylish transparent pinball tables that are usually only on display at Pacific Pinball Museum in Alameda, California.
Bigger than Hercules
The most striking and unusual pieces from "Ausgeflippt" though are the DIY machines that blur the boundaries between toy, game and art piece. The by far biggest of them is of course "Galactic Dimension", a pinball machine so big that it puts Atari's "Hercules" to shame. "Galactic Dimension" was built by artist Niklas Roy especially for Phaeno where it merges perfectly with the eclectic structures of the Phaeno building designed by famous architect Zaha Hadid. Unfortunately, the behemoth of a pinball machine didn't work while I visited. Must not be easy to service this thing. Imagine having to cope with machines this size at a tournament!
But "Galactic Dimension" is just the beginning. One level lower, "Ausgeflippt" really takes off. You see little contraptions where pinballs and bumpers are thrown into a bowl to show how they interact. There are archaic machines made out of wood, a spacious and colorful hard rock pinball hommage for five players, a pinball drawing board and a table where the bumpers were swapped with tuning forks. No big surprise then that right next to these pieces, a pinball piano is in full effect where you control a bunch of flippers by playing your own little skill shot overture.
Fun for everyone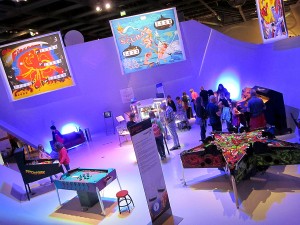 The kids love it, obviously: Every pinball machine and art piece is intriguing, there is lots of variety, and of course almost everything is hands-on. The supervisory staff on the other hand has to endure all the noise from the exhibits and the excitement from the visitors. They wear earplugs to dampen the level of sound which comes close to the clicking and clacking you hear at a big pinball tournament. Sure, this works out for one day or two, but actually working with this kind of noise for days might let you go crazy after a while.
At "Ausgeflippt" though, no incidents happened – at least not when I visited. You just have to get in line and be patient sometimes. Being a pinhead and playing pinball on a regular basis kind of lets you forget that most of the folks out there may very rarely stumble upon a pinball machine in their everyday lifes. That pinball is still great at getting everyone's attention was proved by "Ausgeflippt" without any doubt. Hopefully this wonderful exhibition will serve as an inspiration to make the silverball more visible in public places again.