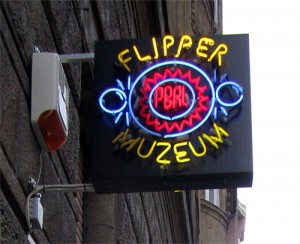 I have always suspected that Hungary is a place with a special pinball community. Apart from the fact that you come across Hungarian players almost every time when you take part in tournaments all over Europe, two well known video pinball companies are also located in Hungary: ASK Homework and ZEN Studios. So I wasn't very surprised to learn that the Hungarian Pinball Museum is known to be an expectional place not just for pinball enthusiasts but for basically all tourists and visitors who come to Budapest. It was a great opportunity then that a few weeks ago the Hungarian Pinball Open 2015 (HPO) took place. What better reason could there be to finally go there? So a friend and I hopped onto the train and we went on a little trip from Vienna to the capital of one of Austria's neighboring countries to the east.
The slots for participating in the HPO were taken within an hour – months before the event took place. It seems as this is the European equivalent of Pinburgh where you can never be fast enough to get registered because otherwise there will be no place left. Finding the Hungarian Pinball Museum is definitely not hard: it's not located in the outskirts or on the countryside like it is the case with a lot of other pinball collections. Instead, it's in the middle of the city. You just step down from the street into the entrance of a large basement where you are instantly greeted by decorative backboxes hanging from the wall. Just a few more stairs down and you are in front of the counter where you can buy your ticket and choose one out of many t-shirts promoting the museum. After that it's just pure bliss: Far over 100 machines in a very good condition are neatly placed next to each other – pinball machines from all eras and also several other old and not so old arcade machines.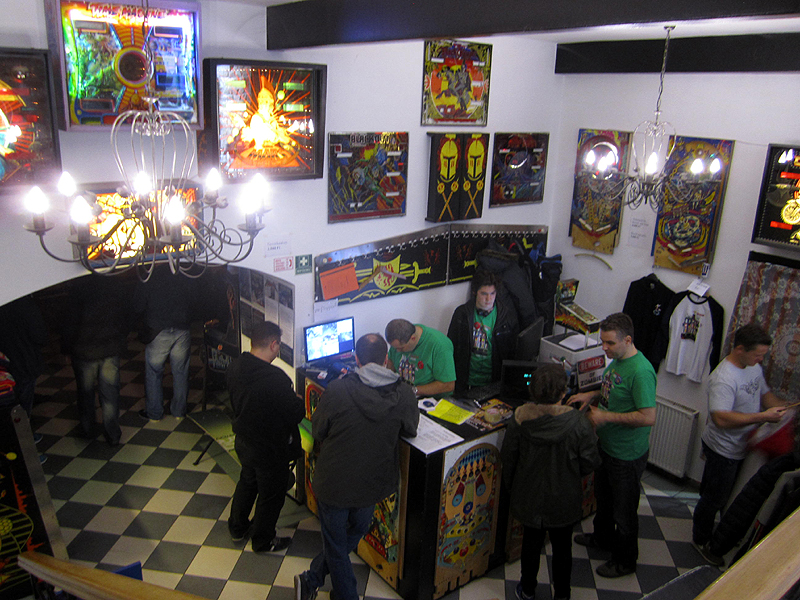 When we went there, the museum was officially closed due to HPO taking place throughout the whole weekend (Friday to Sunday). It was only available to registered tournament players. The organisation was wonderful. A big team consisting of referees, technicians, announcers and other helping hands were on duty all the time throughout the tournament. In the middle of everything was the man who made it all possible: Balázs Pálfi, founder and owner of Hungarian Pinball Museum. The 43-year-old opened his collection in April of 2014 to great fanfare but came under pressure from the local authorities who – as it is still ridiculously often the case nowadays – considered pinball as part of gambling. Bizarrely, the fact that you can't win money with pinball and you don't even have to put coins in the museum's machines was obviously not convincing enough. To avoid huge tax payments, Balázs closed the museum down from May to July 2015. But the story has a happy ending: The museum was reopened in the beginning of August thanks to a court ruling in Balázs' favor.
In between the action of Hungarian Pinball Open Balázs Pálfi found the time to talk to The Ball is Wild about his personal history with the silverball, the opening of the museum and why pinball is so big in Hungary. Enjoy!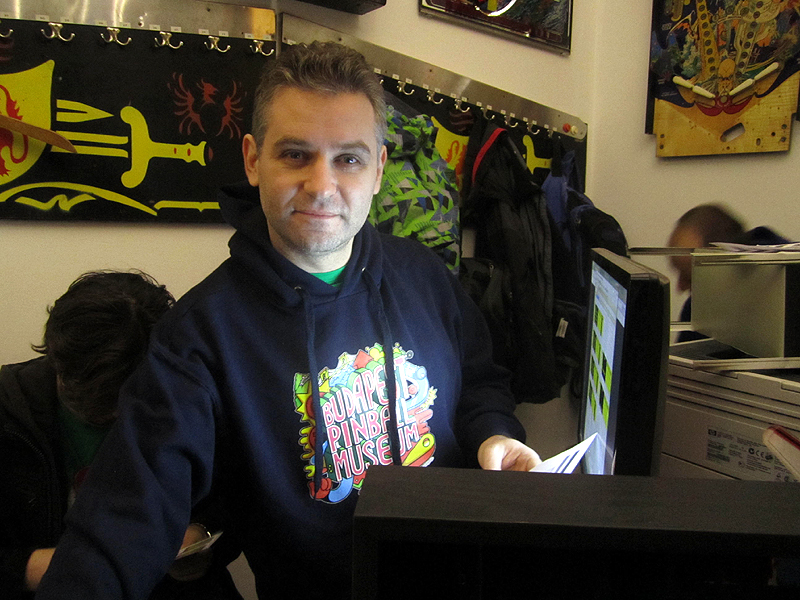 How did the Hungarian Pinball Museum start out?
When I realized that I had more than 20 pinball machines I felt that this should be made public and not just serve my own entertainment needs.
How would you describe the Hungarian pinball scene? As far as I've noticed: In Hungary, pinball is quite a big thing.
It used to be the greatest scene in Central Europe. During the early and mid 90ies, you could find a pinball machine in almost every corner of Budapest, for example.
What's your personal history with pinball?
I was always interested in graphic design. With pinball, you also have sounds, colors and moving parts. I first encountered a pinball machine during the communist era. You could go to certain places on vacation back then but it was very tightly organized. There were houses which functioned as hotels and hostels at these places. There you could always encounter pinball machines.
So you became interested in pinball during the socialist era. What role did pinball and similar entertainment play back then?
Pinball machines were allowed to be imported into Hungary earlier than Coca Cola for example. So pinball was well known during the socialist era. The first place in Budapest where you could find them was in amusement parks. Even now, you can find a machine in the museum that is originally from this time. The socialist era was otherwise a closed system when it came to pop culture. But when pinball was allowed into the country, it became huge. Sometimes a pinball machine with a well known movie theme would be introduced to Hungary earlier than the film itself.
How many pinball machines are presented in the museum at the moment and how many people are working here?
At the moment we have 115 machines. Apart from that, we have more than 20 other machines – videogames as well as mechanical arcade machines which are all in operation at the museum. Regarding the staff, we have people who do service repairs and are maintaining the machines. Also, there are helpful helds for organizational needs. We also have a person who takes care of marketing and PR as well as business development.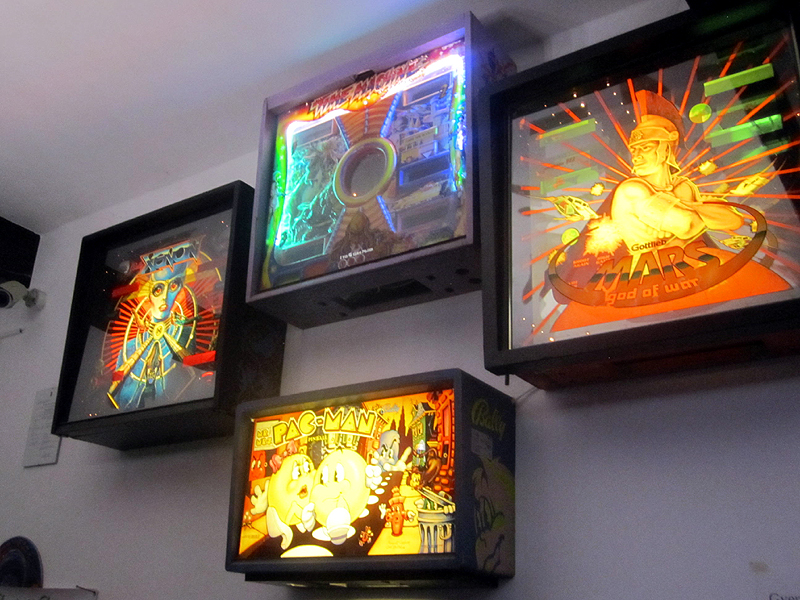 How can you find time to run a pinball museum this size? What is your dayjob?
I was employed in the finance and investment industry. After nine years I became an investor myself and after that I opened the museum. I am really surprised that it gets so much attention and is a success.
So you live off your investment money?
Basically, yes. Last year the museum was producing losses. This year though there is an increase in demand. So there is a growing number of visitors and more income but the money we earn with the museum gets completely reinvested at the moment. The learnings of last year were that we need to cut our budget a little bit and have to put more of our time and work into the museum.
The museum is in the middle of Budapest, so it's very accessible. I can imagine a lot of visitors coming here outside of the dedicated pinball community.
Yes, the majority of our visitors are not part of the pinball community. We have young families with children, couples, everyday people. We also organize children's parties in our seperate event room. So even for the children there is a growing interest in pinball.
That's interesting because a lot of kids don't really know what real pinball is about anymore because they have few possibilities to see them in public places. What is the usual reaction when children come to Hungarian Pinball Museum? Is it the first time they see those machines or do they know them already?
Today's children simply adore pinball machines regardless if they see them for the first time or not. Also, people in their twenties now sometimes encounter pinball for the first time. But on their faces you can see the same amusement and enchantment as with us when we were the same age as they are now. Nothing has changed when it comes to enthusiasm for pinball!
What does the professional pinball scene represent to you? How important is it and is it growing in a good way? Or do you think it's stagnating?
It's a growing community. However it's not the only target group of the museum as we mentioned already. But of course it's a good thing that so many pinball fans are exited about our museum.
Are you playing a lot yourself? And are you also repairing the machines yourself?
I obviously like to play pinball but I am not one of the best players. Still, the mood of a big tournament carries me along in a special way. When it comes to maintaining the machines, we have to check them up on a regular basis. Without this it makes no sense to run a museum like this.